Pat Byrnes has been known as many things. A cartoonist for The New Yorker, a rocket scientist (well, technically an aerospace engineer), a Clio-award-winning ad man. And Captain Dad, which was both his persona for the acclaimed book and blog of the same name, as well as his real life role.
It was in this capacity of wrangling small children that he found his inspiration for the Shark Tooth®.
The wriggly-ness of small children resulted in him frequently being head-butted in the glasses. It hurt. A lot. So he sought out a pair of streamlined eyeglass frames that would distribute the head-butting load more comfortably and even deflect some of its impact.
Expensive, but worth it.
Now, since these were reading glasses, he didn't need them all the time. So, when he took them off, he hooked them over his shirt collar like everyone else does.
It seemed like a good solution. Until he thought about it more carefully. While mowing the lawn. Upon hearing a loud crunch.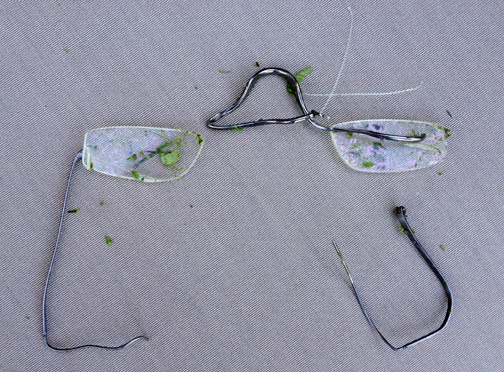 The problem, you see, was that the temple of the glasses he had hooked over his collar could flip open and allow the glasses to slip out. What he needed was an eyeglass holder. And a secure one. It didn't take a you-know-what to figure that out.
The most secure holder he could find was the headband style. It came in two styles, the kind suitable for a snow boarder and the kind suitable for an aging librarian. Not his style, but he tried them anyway. In addition to being awkward for everyday wear, they also caught all the crumbs from his meals.
Next!
He tried the loop. That simple ring that hangs around your neck on a chain or attaches to your shirt with a pin or magnet. It looked a little more professional, but it was not one tiny bit more effective than a shirt collar.
All there was left to try was the new holder that people were talking about because it had been on TV. It was clever and appealed to the engineer in him. But it also looked like it appealed to the engineer in him, having all the panache of a pocket protector. Besides, it let his glasses fall out when he bent to tie his shoes.
This was the frustration.
Pat wanted something that worked better and looked waaaay better than any of these options. He wanted something that looked cool enough to wear even without glasses.
This would not take a rocket scientist. It would take a rocket scientist with the taste and skill of an artist. Which, luckily, he also happened to be.
The result, we are happy to report, was both ingenious and beautiful—and now patented. It safely held his glasses while riding rollercoasters with his kids (if only he had something to hold his stomach as securely!). It held safely while riding bikes or tossing around a ball. It held while mowing the lawn.
And it attracted more than a few choruses of "Where can I get one of those?" Even without his glasses in it.
Clearly he had made the eyeglass holder he was looking for. And that would have been the end of the story.
But then he looked at his creation from a different angle. He saw that smooth, beautiful back face and the ad man in him realized that it was just perfect for presenting a logo. Or a message.
Lucky thing, too. But not for that promotional possibility, Pat would have never bothered to bring this little gem to market; he would have been content to enjoy it all on his own.
Right now, it is only in small batch production. But we look forward to scaling up production and making the Shark Tooth®—available as a promotional item, as well as a practical one, very, very soon. Please stay tuned, or email us to receive future updates or inquire about licensing production of the Shark Tooth®.
.